Il singolo che anticipa il nuovo album prodotto da Calabria Sona e ItalySona
L'indie-pop made in Calabria dei Free Love, uno dei gruppi vocali protagonisti della scena musicale degli ultimi anni, torna con il ritmo contagioso che ricorda i favolosi anni '80 del nuovo singolo dal titolo "Aspirina" già disponibile su tutti i digital store.
La canzone, scritta dagli stessi Free Love – il trio composto da Michele Mirabelli, Anna Francesca Ripoli e Domenico Sposato che ha compiuto i dieci anni di vita nel 2021 – è arrangiata da Arianna e Marco del Tape Lab Studio e parla di una storia tra due persone e lo fa in maniera profondamente malinconica. "La malinconia, da non confondere con la tristezza, ci proietta nel nostro passato ma con una proiezione meno tragica", racconta Michele. A fargli eco è Domenico: "E' uno stato d'animo che ci contraddistingue, poiché ciò che ha segnato le nostre vite, sarà la base del presente e del futuro di ciascuno di noi".  "Aspirina è uno dei nostri brani – continua Anna Francesca – a cui siamo maggiormente legati, poiché anche nelle sonorità che andrete ad ascoltare, ci sono elementi che delineano la nostra musica".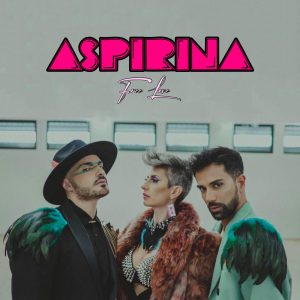 Le novità per i Free Love non finiscono qui: prima di Natale uscirà anche il videoclip, diretto da Annalisa Macchione, e con molto entusiasmo stanno lavorando ad un prossimo album che sarà prodotto da Giuseppe Marasco per Calabria Sona e Italy Sona. "Dopo il lungo isolamento forzato con cui abbiamo dovuto fare i conti quest'ultimo anno, ora ci sentiamo tutti pronti a scappare, viaggiare, amare e ridere di nuovo. E' in corso un rinascimento, una vera e propria rivoluzione a cui vogliamo contribuire, rendendoci parte attiva in ogni modo possibile attraverso la forza della nostra musica", hanno dichiarato i giovani artisti pronti a conquistare un loro spazio nel settore grazie al circuito di Calabria Sona.
Chi sono i FREE LOVE
Dalla passione innata per la musica di Michele Mirabelli, Anna Francesca Ripoli e Domenico Sposato, nascono ufficialmente nel gennaio 2011 i Free Love. Le loro voci si fondono in una, con miscele di rock, blues e pop-lirico, ed è tramite lo studio, l'amicizia che li unisce e la passione che li accomuna, che i tre prendono consapevolezza dell'alchimia che esiste tra le loro voci. I tre cantanti, individualmente, entrano a far parte del mondo della musica sin da piccoli, ma il loro incontro sodalizza e gratifica la loro carriera artistica. I Free Love vantano partecipazioni a svariati concorsi e festival nazionali, piazzandosi sempre nei primi posti.
Iniziano già dai primi anni a creare brani inediti sperimentando sonorità diverse dando vita a vari tour e ad ospitate televisive e partecipano come ospiti a vari concerti di artisti del panorama nazionale come ad esempio Anna Tatangelo, Il Cile, Ivana Spagna.
Continuano le collaborazioni e nel dicembre del 2016 esce una raccolta di canzoni natalizie Free Christmas Love, nella track special è presente il loro inedito Dolce Verità, un brano che tratta il tema della violenza sulle donne. Nel 2017 sono impegnati nelle registrazioni del talent nazionale The Coach andato in onda nel luglio 2018 sulla rete televisiva nazionale 7Gold. Nell'estate del 2018 esce Otra Vez, inedito nato dalla collaborazione con il rapper Pika Dmf. È un brano estivo ed eclettico che rispecchia la leggerezza tipica della stagione. Nasce proprio per la ricerca della spensieratezza e la voglia di ballare e divertirsi. Dal 25 luglio 2018 il brano è presente su tutte le piattaforme digitali.
Il 2018 è un anno per loro molto importante in quanto si fanno conoscere con il loro nuovo singolo "il Resto Già Lo So" alle selezioni di Area Sanremo unico concorso, insieme alle sezione case discografiche, che porta i giovani direttamente a Sanremo ad esibirsi nel prestigioso Teatro Ariston. Il risultato finale li vede nei 70 finalisti del concorso. Un grande traguardo per i ragazzi che per la prima volta tentano la scalata a Sanremo. Il Resto già lo so permette loro di esibirsi in lungo e il largo per la Calabria per tutta la stagione invernale e primaverile. Il 30 maggio esce il loro nuovo brano estivo "Mordi Eva" un pezzo tutto da ballare.
18 giugno 2021, dopo la chiusura forzata del lockdown , esce "Moba" il loro ultimo brano. Moba prende ispirazione da un museo privato, il museum of bad art, sito nello Stato del Massachussetts. E' un brano fresco, con ritmi dance e latini, racconta una delle tante sfumature dietro la storia dei social, ossia il momento in cui, per definirsi con le proprie differenze, ci si accosta a dei modelli effimeri, ma in realtà bisogna prendere consapevolezza della bellezza che è dentro di noi per poter iniziare una vera e propria rivoluzione di se stessi.
ASCOLTA ASPIRINA: https://ampl.ink/reMmR
Per contatti con gli artisti: Michele 3891341316 / Anna 3405817195.
L'INDIE-POP CALABRESE DEI "FREE LOVE" TORNA con "ASPIRINA":